The Clinician Assistant
in Critical Care
™
DocBox

®
is at the ICU bedside, automating nurse documentation through the integration of medical devices for real-time patient health condition visualization
The Clinician Assistant
in Critical Care
DocBox

®
is at the ICU bedside, automating nurse documentation through the integration of medical devices for real-time patient health condition visualization
Clinical ICU
Efficiency
• Automated real-time nurse documentation visualized
at the bedside


• 70% reduction in nursing documentation time and
mouse click fatigue


• Enabling clinicians to
capture procedures and
observations at the bedside


• Deconstruct an event for root
cause analysis and staff training
Infrastructure Compatibility

• Secure medical IoT platform
with standards-based controlled vocabulary


• Vendor-neutral for data
integration of various medical
device manufacturers


• Medical device cybersecurity
framework


• ~2GB of data per day per patient, owned by healthcare provider
ICU
Administration


• Prevent revenue leakage by automatically capturing billable clinical interventions


• Clean, structured, complete,
highly granular patient and clinician data sets of the complete patient
timeline during stay, for monetization


• DaaS model subscription
to improve your cash flow
Improved ICU patient care
with DocBox
®
, the Clinician Assistant in Critical Care
™
Nurse workflow sheet application
Operational dashboard and reports
Automated activity capture for billing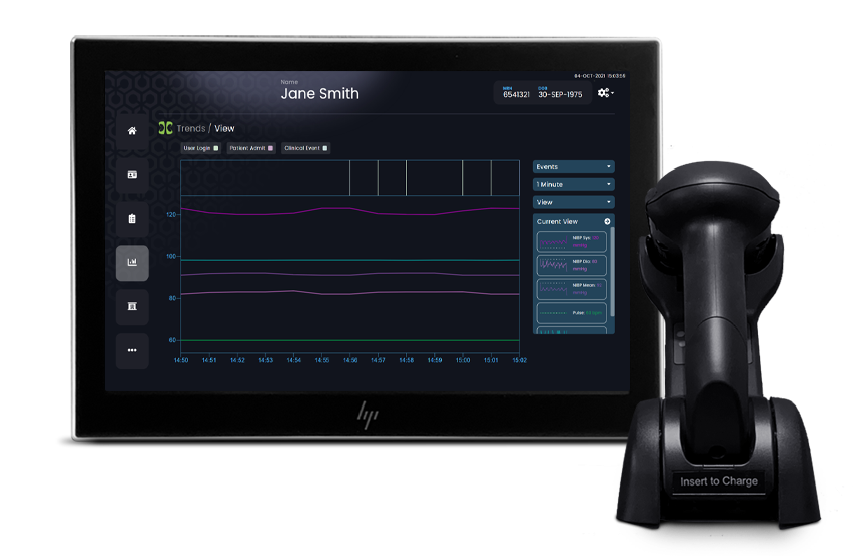 Healthcare Providers can access ~2GB of data per patient per day for:
AI // Machine Learning // Development of Algorithms
The complex work of clinicians in critical care, is now easier, safer and more efficient.
Our DocBox® mIoT platform comes on the most
reliable hardware: HP Engage One Pro
Long life cycle and disinfectable with 10,000 wipes


The security stack and 60601-1-2
• Protected by the DocBox® Security Framework
• Certified to National electrical safety and radio interference standards
Barcode scanner
for efficient access
and user identification
to DocBox®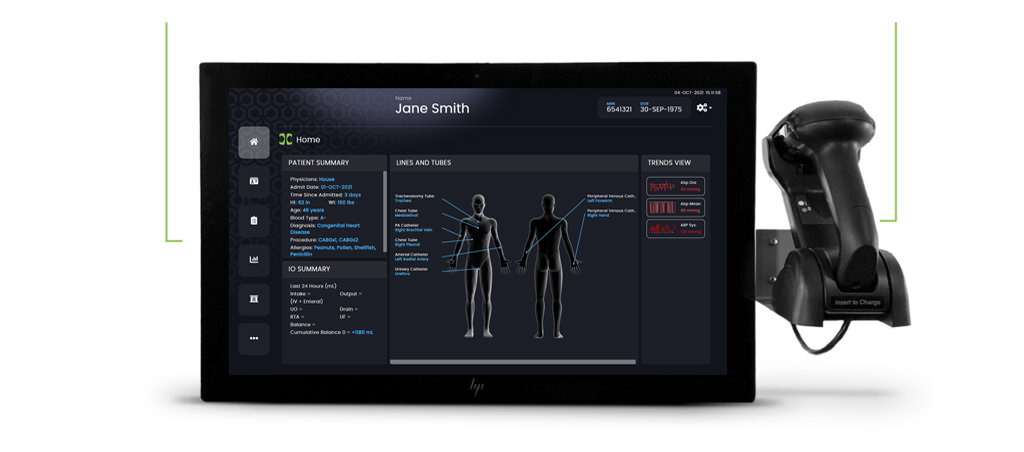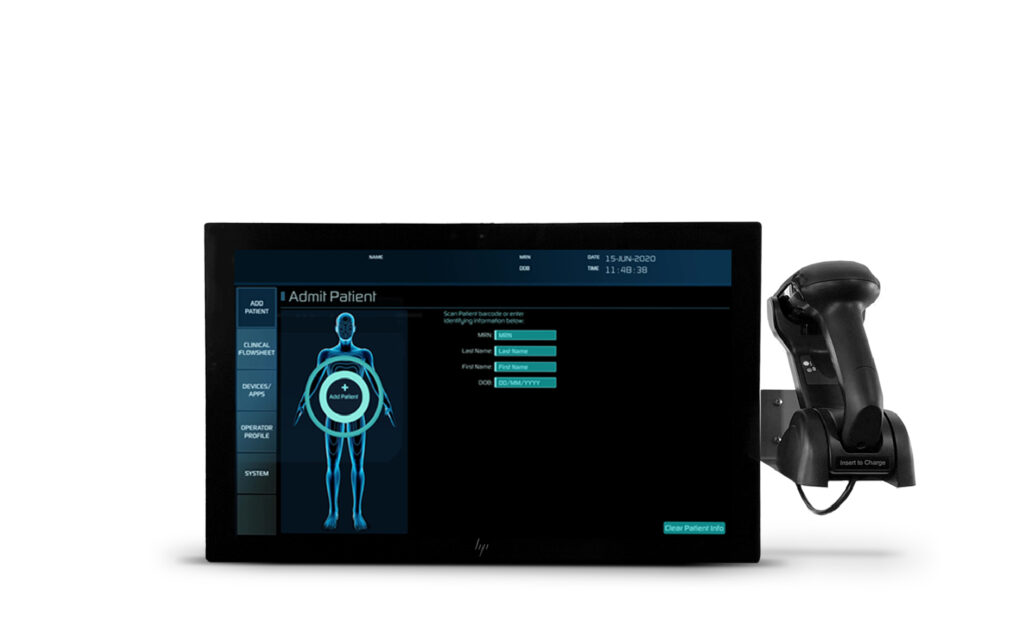 Barcode scanner
for efficient access
and user identification
to DocBox®
With DocBox
®

, the Clinician Assistant in Critical Care

™

,
stop spending time with manual documentation on charts or the EMR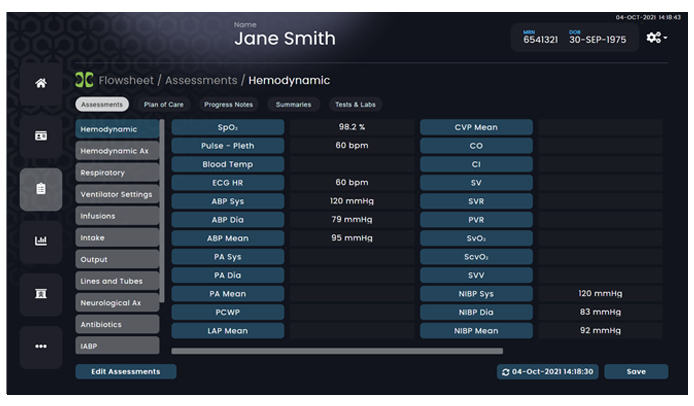 Automation of documentation decreases
complexity and saves time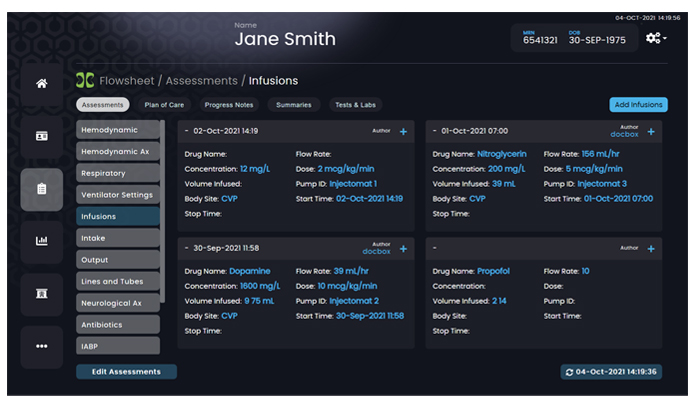 Patients that receive increased amounts
of quality nursing care have better health outcomes
Easy and quick to learn, Workflow is intuitive and fast
Make your ICU more efficient with DocBox
®
What clients say about

DocBox

®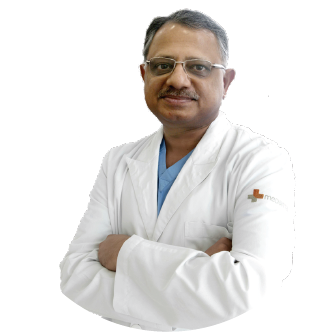 Chairman of Critical Care
and Anesthesiology
Medanta Hospital, the Medicity
Gurgram, National Capital Region,
India
"We have been using DocBox at Medanta Hospital for several years now
and it is a key solution for us in the Intensive Care Unit.
Our physicians and nurses can monitor all data about the patient
on the DocBox screen: X-Rays, CT Scans, MRIs, all the labs, the ventilator settings,
the hemodynamic medication and status. If needed, they can go back
the record's history and review any incident that has occurred.
In addition to medical data, the DocBox system also tracks information important
to department administration—such as bed occupancy, billing, and more.
DocBox is a very useful clinical care assistant to the critical care
physicians and to the hospital."